Lance Holt School in Fremantle has built up its own strengths, traditions and unique learning environment since 1970 with a long history of Values Education. From its early days the school has consistently focused on values such as social justice, sustainability and community participation. The school's 'whole child approach' with an emphasis on student wellbeing and school connectedness is embedded in our whole school core values. 
We are committed to developing a wonder of the natural world and encouraging a care of the environment that reflects a global stewardship;
We recognise the importance of learning as a life-long process;
We actively pursue cooperation and the peaceful resolution of conflict;
We recognise the special vulnerability of children and their need for a safe and healthy environment;
We see the education of children encompassing their social, emotional, academic and physical development;
We promote shared responsibility with regard to the relationship between self and community;
We understand the diversity and uniqueness of the Fremantle community and respect the special relationship between ourselves and that community; and
We affirm the equal worth and basic right of all persons. In doing so we recognise individual differences and the uniqueness of the individual.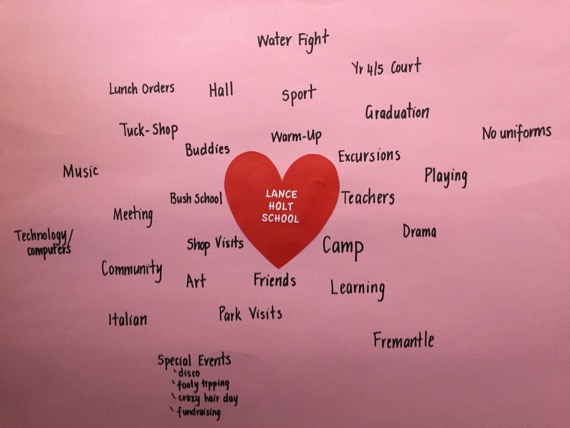 Pictured: Children identified what they most valued about Lance Holt School. The closer to the heart the more highly valued by the children.